What Every Virginia Woman Needs to Know About Divorce
By Sheera Herrell & Katherine Wilcox Carter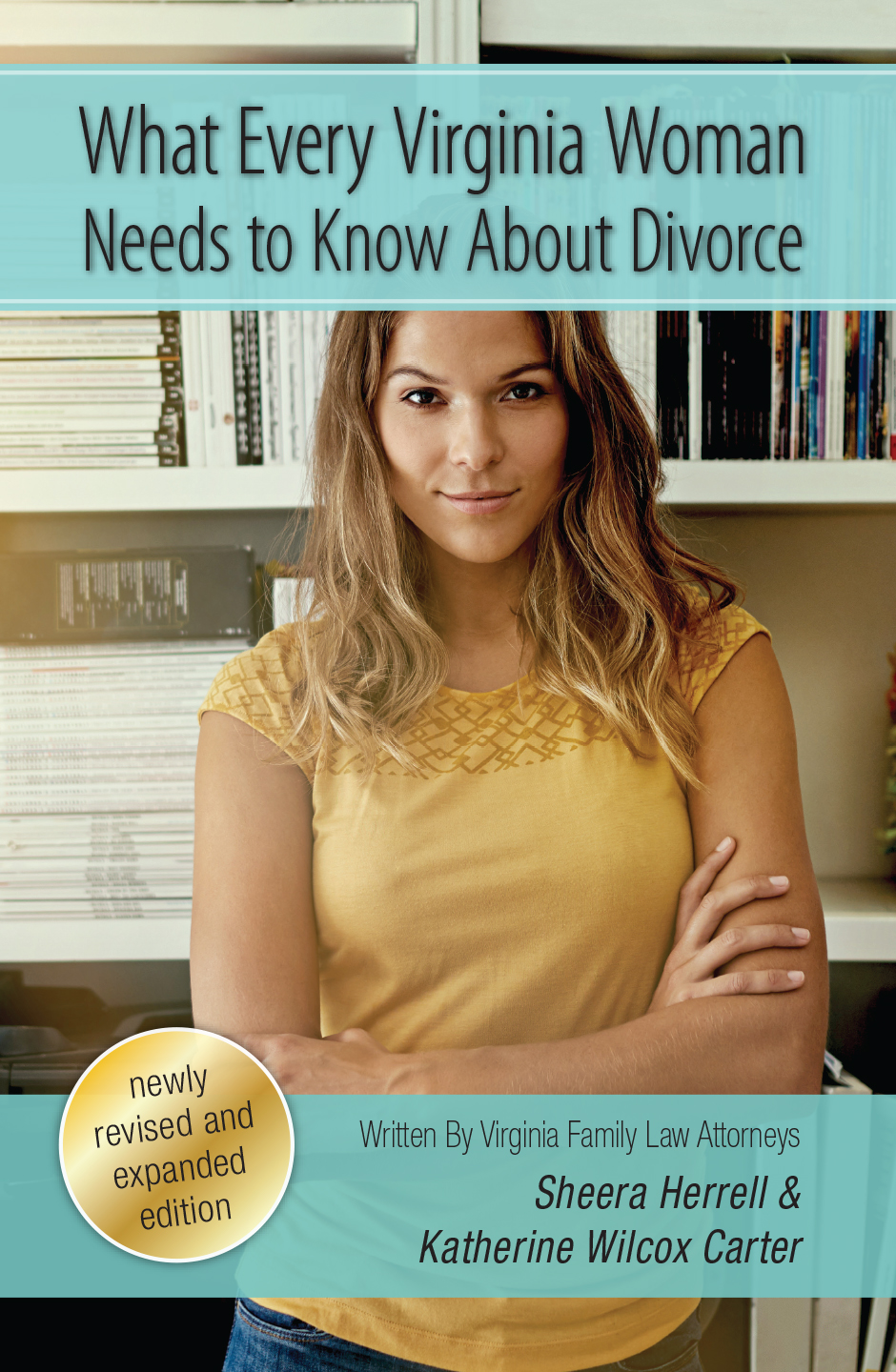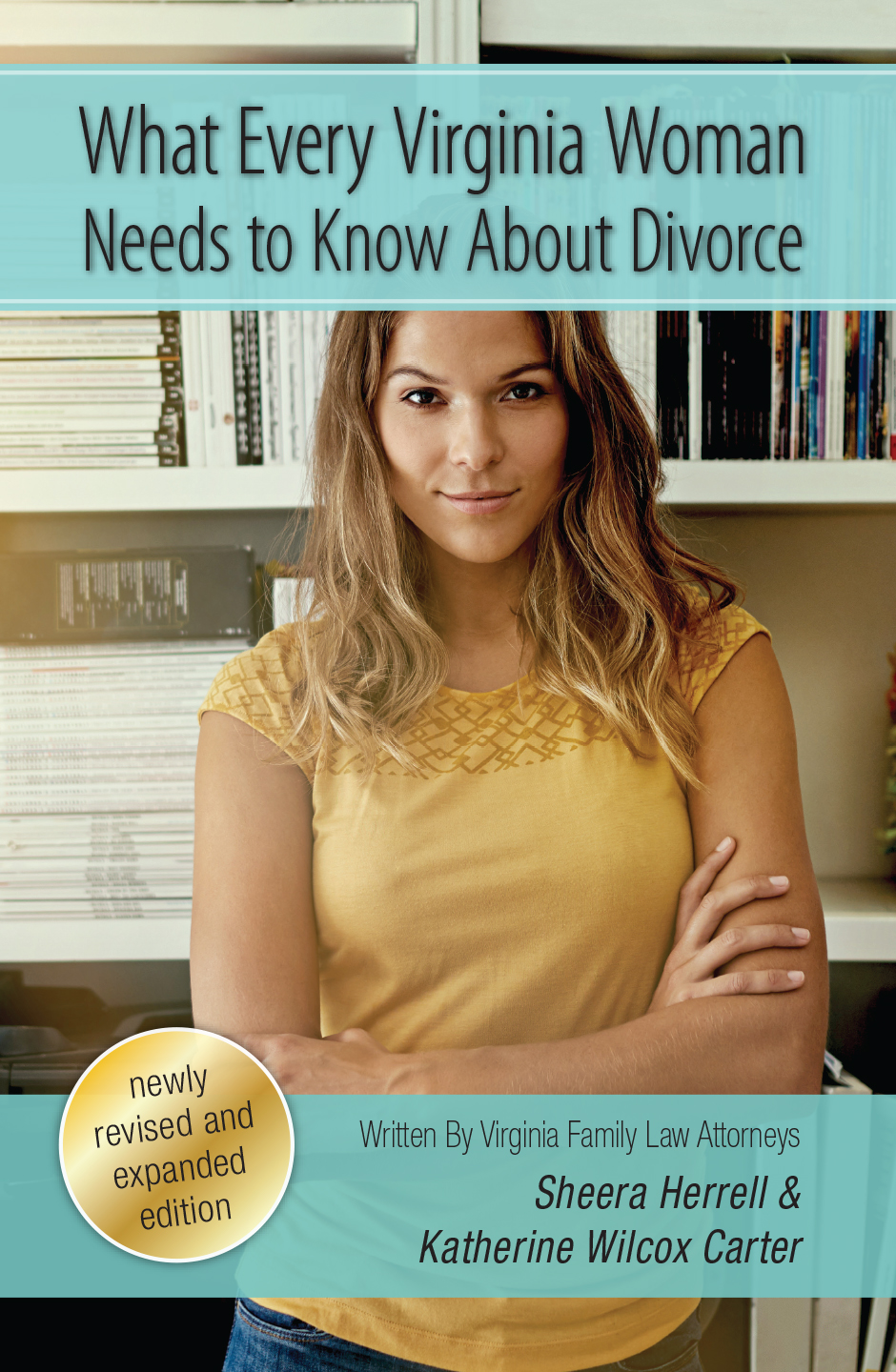 If you're considering a divorce or separation but aren't sure what your first steps should be, you're in the right place. It seems daunting at first, but with careful planning and preparation, you can begin to take the steps necessary to make sure that your best interests are well protected. In our first meetings with clients, we're often asked the same questions. "What are my rights?" "What am I entitled to?" "What if he doesn't want the divorce?" "What if I don't want the divorce?" "What are my options when it comes to divorce in Virginia?" They're all good questions, and you're right to be wondering! Of course, that doesn't mean you're ready to schedule a consultation right away. Most women want to get a better idea of what to expect (and even what questions they should be asking) before they jump straight into a consultation. If that's the way you're feeling right now, you're definitely in the right place! If you request a free copy of our Virginia divorce book, "What Every Virginia Woman Needs to Know About Divorce," you'll put yourself on the fast track towards getting the information you need to make the types of decisions you'll need to be making in the coming days, weeks, and months. Whether you decide to save your marriage or move forward with a divorce, we'll never push you in any particular direction. It's our goal to make sure you know what you need to know—that's it.
So, what's in our divorce book?
The 20 things you need to know to live separate and apart under the same roof;
The 13 factors that affect whether you'll qualify to receive spousal support;
How property is classified and divided in Virginia divorce;
The 10 critically important factors that affect how a judge will decide your custody case;
How to determine your exact share of his retirement accounts;
The financial records you MUST be aware of;
The stages of divorce;
The types of divorce; and
Questions you should ask any attorney you interview. When you request a copy of our divorce book, we'll send it to the email address you provide right away. If you live in our immediate area, you'll also receive an email asking for your address and other information so that we can
get a hard copy in the mail to you.
Why should I read your divorce book?
There's a lot of information out there, but it's hard to tell what you can trust from what's just junk. There's a lot at stake in your divorce case, so you want to make sure you have the most up to date, Virginia specific information possible—and that's exactly what we can provide. Our divorce book was written specifically by two of our divorce attorneys, Charlie and Kristen Hofheimer, the father/daughter team that founded the Hofheimer Family Law Firm. It's up to date, it's Virginia specific, and it's full of the type of information you need to begin to plan your next steps. It's also written specifically for women—something you won't find anywhere else.
How quickly will I receive it?
Once you fill out our easy online form, you'll receive an electronic copy of the book in minutes. You can print it out or read it directly on your computer—it's entirely up to you! Then, if you live in our immediate area, you'll receive another email asking you for your address. If you fill it out (it's totally up to you), we'll ship you (free of charge) a hard copy of the book, so that you can write in the margins, highlight key passages, and easily read and re-read parts. I want more Virginia divorce information. Where else should I look? A good question! If you still want more information after you've read the book, consider signing up for our divorce e-course. After you receive your email with the electronic version of the divorce book attached, you'll also be asked whether you'd like to sign up for our divorce e-course. It's an email web course, written and created for you by one of our licensed and experienced Virginia divorce attorneys, that goes into more detail about how Virginia law works in separation and divorce cases. It's a great way to learn a little more about the divorce process! Want to ask questions directly to an attorney? Consider attending our monthly divorce seminar. We teach it three times a month, in Virginia Beach and Newport News, and each seminar is taught by one of our attorneys—so you can ask your questions directly. For more information about our divorce seminars, or to register, just click here.
I'm afraid to give you my contact information.
We understand how you're feeling, and know that this is a really vulnerable time. If your husband has access to your email account, consider setting up a new gmail account by clicking here.  We never sell your contact information, or contact you in any unexpected way. If you elect to participate in the divorce e-course, for example, you'll receive extra emails; if you don't, though, we'll stop emailing. We'll keep your contact information private. If you want a hard copy of our book, but don't want it sent to your home, send it to a friend or neighbor's house (or even your work address) instead. We'll send it in a plain manila envelope, with no return label or anything that identifies the contents. We take your privacy very seriously.
I'm ready to order my copy of the Virginia divorce book for women now. Where do I go?
Just fill in the information on the right hand side, in the gray box.  At the top, it says, "Order a Free Copy Today."  Just fill out the form, and you'll receive your e copy right away! It's a great choice, and the best way to get up to date, Virginia specific divorce and custody information. For more information, or to go ahead and schedule an appointment with one of our attorneys, give our office a call at (757) 425-5200.